Topro Odysse Travel Walker
Color: Ultramarine Blue
Seat Height: 21" (Medium)
https://youtu.be/wlsg59pEl2c
Features & Benefits:
Perfect for our first-class clients who like to travel with European style and quality. THE TRAVEL ROLLATOR! Safe, innovative two-way folding makes the TOPRO Odyssé perfect for transport and travel!
• Unique two-way folding (patent pending).
• Safe folding mechanism – cannot be folded
downwards before completely folded sideways.
• Compact when folded; 75 × 44.5 × 24.5 cm.
• Practical transport bag is included.
• Spacious, expandable shopping bag; 13–22.5 litres.
Maximum weight capacity is 10 kilos.
The fastening strap can be used to carry the shopping bag separately.
Highly acclaimed features
• Different tires are available which can easily be
exchanged due to TOPRO Quick Release wheels.
• Tilt function, edge guard, TOPRO Ergo Grips and a TOPRO Bell.
• Safe, steady and lightweight.
• Tested and approved according to EN ISO 11199-2
and biocompatibility tested according to EN ISO 10993-5.
• Wide range of accessories are available.
Specifications: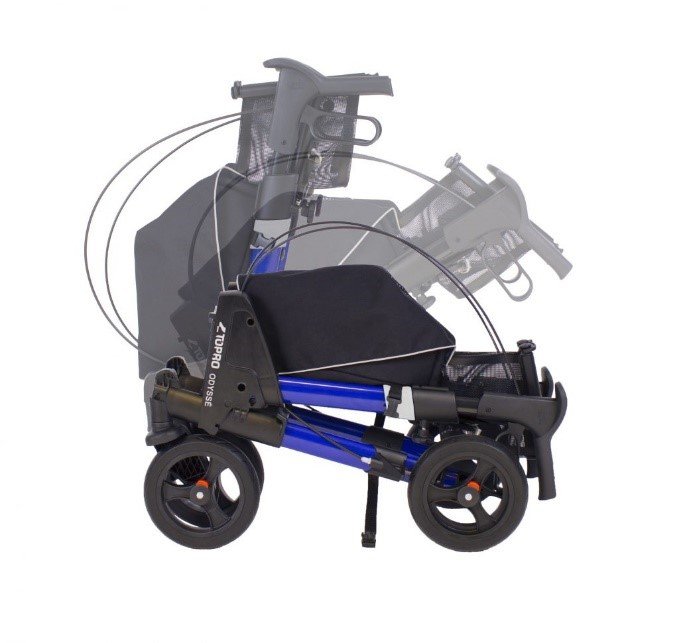 Recommended user height 150–200 cm
Maximum weight of user 150 kg
Weight capacity shopping bag 10 kg
Volume expandable shopping bag 13–22.5 l
Handle height 81.5–100 cm
Handles – Ergonomic (different holding positions, TOPRO Ergo Grip)
Maximum length (in upright position) 65 cm
Maximum width 60 cm
Width between handles 47 cm
Seat height 62 cm
Diameter turning circle 84 cm
Diameter wheels 20 cm
Width wheels 3.6 cm
Grip distance driving brake 6.5 cm
Height when completely folded
(sideways and downwards)
44.5 cm
Height when only folded sideways 81.5 cm
Width when folded 24.5 cm
Length when completely folded
(sideways and downwards)
75 cm
Transport weight (excl. detachable
wheels and shopping bag)
6.0 kg
Total product weight (incl. detachable
wheels and shopping bag)
8.2 kg
Area of use Indoors and outdoors
ACCESSORIES-We offer a variety of high-quality accessories that help enhance the rollator comfort and performance. These can be purchased separately. Contact us for details.