Escape Walker/Rollator
Testimonial:

"I had a car accident recently and my doctor recommended a walker. I was also recommended to come to Accelerated Orthopedic Services, as they have quality, safe products, but also have the service of having someone come to my home to fit me and show me how to use the walker. What a relief! -Louise F.
BUY-BACK PROGRAM:
What will you do with your device when you are healed? Take advantage of our unique BUY-BACK program! If it's still in good condition, we will pick it up and give you $200 back to celebrate!
Features & Benefits:
Lightweight aluminum construction
Large padded seat for added comfort
Adjustable padded backrest
Folding shopping bag
Easy to apply, cable-free brakes
Easy to navigate with large 8" wheels
Easy to Adjust Handle Height
Anatomical Handles
Curb Climber
Guaranteed always in stock.
CAN I RENT THIS DEVICE?
YES. If you live in Edmonton and surrounding areas, you certainly can!
Click here for more details.
Specifications: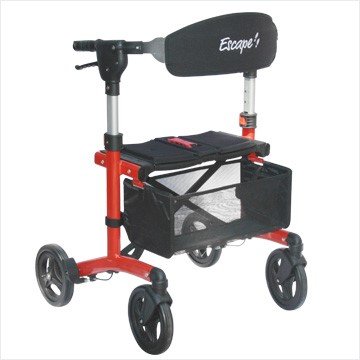 Seat height- 21" (54 cm)

Handle height range 29.5 - 37.5" (75 - 95.3 cm)
Distance between handles 18" (45.7 cm)
Distance Between wheels 19" (48.25 cm) 19" (48.25 cm)
Seat size 18.5 x 9.5" (47 x 24 cm)
Overall width 25" (63.5 cm)
Overall length 25.6" (65 cm)
Depth folded 11" (28 cm)
Wheel diameter 8" (200 mm)
Weight capacity of rollator 275 Ib (125 kg)
Weight capacity of shopping bag 11 Ib (5 kg)
Rollator Weight 15.6 Ib (7.1 kg)
ACCESSORIES
We offer a variety of high-quality accessories that help enhance the rollator comfort and performance. These can be purchased separately. Contact us for details.
FAQ:
How do I know which size to order?
While standing, measure the distance of your wrists to the floor. This is the handle height you should choose.