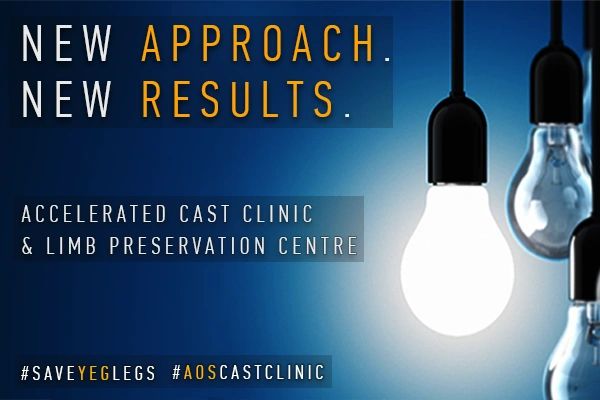 Question: To date Accelerated has a 99% success rate at healing chronic wounds, where traditional treatment has often failed after months or years. To what does Accelerated attribute their success?
At Accelerated, our philosophy of treatment is comprehensive, yet simple. We believe a chronic wound is a symptom of a greater problem, which our team works diligently to solve. Our holistic, client centered approach combines nursing and physician specialists, as well as therapists from a variety of disciplines, combined to create the largest High-Risk Foot Team under one roof in Alberta.
Whether the client is seeking treatment for a fracture, injury, foot problem or wound, the approach is the same. We begin by assessing when, where, how and why the injury or wound occurred. We then identify and assist to remove barriers to healing, such as: mobility, excess pressure to the injured area, ill-fitting footwear, circulation and sensation deficiencies, mental health and other lifestyle challenges, such as diet, exercise and blood sugar control. There is no "magic" dressing that will address all these common issues.
Additionally, we explore and offer affordable, innovative options to augment the body's natural ability to heal itself with a variety of treatments to improve circulation to the injured area and to remove non-viable tissue at the injured site; called debridement. We tirelessly work with every client to find solutions which work for them to get them back to life, work and play. Faster.
At Accelerated's Learning Centre, our passion is to share what we do with other health care professionals around the world for the benefit of patients everywhere. Each thoughtful course discusses one or more aspects to our approach to fracture, wound, injury healing and foot care. 
Our services include: 


Patient Education
Patient education programs that emphasize proper nutrition and foot care to decrease the likelihood of diabetic complications such as infection, ulcerations, peripheral vascular disease and amputations.
Orthopedic Assessment & Treatment of non-emergent injuries
In our Cast Clinic, our physicians and nurses provide expert assessment and treatment of your non-surgical orthopedic injuries, such as arm/leg fractures, tendon or ligament tears, sprains/strains, etc. We also provide related casts, splints, braces, mobility equipment and more at affordable prices.
Emergent cases, such as an open fracture, dislocation, or other situations where emergent care is needed will be referred to your local Emergency Department. 
Prophylactic Foot Care

 
The debridement of diseased nails, corns and callus in the high-risk patient population.
Lower Limb Assessments/Testing

 
ABI (Ankle-Brachial Pressure Index), TBI (Toe-Brachial Index), Diabetic Foot Screening, High Risk Foot Assessment (according to Alberta Health Services DON SCN and CAWC guidelines/documentation) and appropriate referrals.
Best Practice Wound Care (according to Wounds Canada Recommendations) including "debridement" of non-viable tissue.
Neuromuscular Stimulation
State-of-the-art wound healing modality to improve circulation. Many patients using neuromuscular stimulation experience a reduction in edema, improved sensation, decreased pain and improved adherence to compression.
Compression Therapy
Compression therapy, utilizing the latest compression technology and systems, to aid in healing of venous ulcers and management of CVI. 
Off-loading, Orthotics Insoles & Shoes 
Orthotic technicians and prosthetists who produce custom-made, off-loading devices to assist wound healing, orthoses and prostheses. (Referrals provided)
Innovative, offloading mobility devices
Certified fitters will demonstrate, fit and train clients how to use 100% off-loading devices, such as knee scooters and the IWALK Hands Free Crutch, to compliment best practice wound care. These are sold/rented as necessary at a very affordable cost. See our website for details.
Diet and Nutrition Information
With every health service we offer education on nutritional choices to encourage bone, wound, joint healing as well as for a health lifestyle in general.  We have a variety of healthy snacks and supplements available for our clients or walk-in customers and for online-shoppers through our E-store.
Orthopedic, Wound and Foot Care Supply
Service related supplies are available for an affordable cost to ensure client finances are not a barrier to rapid and maintained healing.
The Total Contact Cast Treatment (TCC)
Weekly treatment averages approx.5-8 weeks/patient for diabetic/foot ulcer management. AOS offers a proven Total Contact Cast treatment protocols, which may provide up to 90% faster healing time for patients. This is weeks/months less of treatment time and frustration, resulting in up to 85% cost savings for the health care system over current, traditional methods of diabetic wound/plantar ulcer/Charcot foot and Post-Op Immobilization of deformity reconstruction management.
Serial Casting
For treatment of contractured limbs, increased flexibility, ROM and comfort.
Amputation Prevention
Each year approximately 450 Albertans undergo a diabetes-related lower-limb amputation. Sadly, 85% of these amputations are preventable. The potential implications resulting from an amputation are even more concerning – studies show that the five-year survival rate following an amputation is lower than many forms of cancer. It is safe to say amputations are not benign.
Our "Cast Clinic & Limb Preservation" services are committed to promoting excellence in the clinical care of diabetes-related foot complications, research and education with the overall goal being limb preservation.
What gaps in our health care system are we meeting? 
Over 3 years ago we identified gaps in our health care system including the opportunity to meet the following health care needs in Edmonton and surrounding communities: 
To redirect chronic wound patients from extremely busy out-patient orthopedic clinics and provide consistent, skilled and specialized services to address the advanced wound care needs of diabetic or chronic foot/leg ulcers.

To redirect non-urgent/non-surgical orthopedic patients from ER departments improving patient experience and reducing ER wait times.

To make advanced treatments and medical devices accessible at an affordable cost to improve their healing outcomes. 

To create additional clinical placements for specialized nursing students as well as employment for same.