Cast & Wound Frequently Asked Questions
Why do you call your patients "clients"?
As we are a private clinic, we view and treat every person we see as family, rather than a just a number. We value and respect each client's body, injury and time at every visit and endeavour to make each person feel safe, appreciated and respected. We'll even offer you a complimentary beverage and try to put a smile on your face.
What type of health problems can you help me with? 
In our clinic and in collaboration with a multi-disciplinary team, we can assist you with many health issues including, but not limited to assessment and treatment of the following:
ü  Acute Sprains/Strains/Non-Surgical Fractures
ü  Serial Casting for spasticity and contractures
ü  Advanced Wound Care: Venous/Diabetic/Mixed/Post-Op Surgical
ü  Comprehensive High-Risk Foot Prevention/Management/Maintenance
ü  Casts, splints, braces at affordable prices
ü  Suture/Staple Removal
ü  Lower Limb Assessments for legs with poor circulation/wounds
ü  Regular Medical/Diabetic Foot Care
ü  Compression Stockings/Wrap Systems
ü  Neuromuscular Stimulation to increase blood flow to legs for wound healing and/or improved sports performance
ü  Off-loading mobility equipment rental and purchase, such as knee walkers, walkers, IWalk Hands Free Crutch
ü  Cold Therapy for edema, pre/post op. swelling, joint pain, etc.
ü  In-House referrals to Footwear Specialists, Neurology, Physiatry, Physiotherapy, Shockwave, Laser & Ultrasound Therapy, Biomechanics & Gait Assessments, Massage Therapy and more.
Do I need an appointment to come to the clinic?
It depends.
For simple purchases or rentals, you can simply walk in to be served immediately.
If you require a service, an appointment is required, so please call or book online. In most cases, same day appointments can be made.
I saw my medi-centre/family doctor for my injury and they said I need a cast/brace. 
Can I skip the ER and come to Accelerated?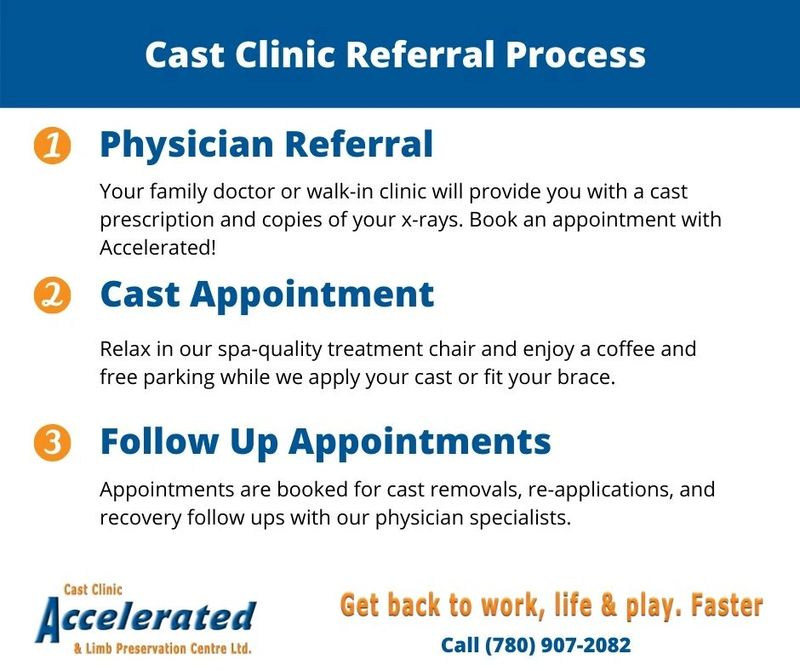 Yes. Your doctor can fax us our Referral/Prescription form, along with your x-ray results (if applicable) and you can call us to book an appointment. We will endeavor to fit you in as soon as possible.
I've injured myself, but don't have or want to see my family doctor. Can I see a doctor in your clinic?
Currently, we do require a referral/prescription from your referring physician. Once you have been treated in our clinic, one of our in-house physiatrists and nurses will continue to manage your care.
I need to be non-weight bearing on my foot/ankle. Do you have any better options than crutches?
Yes. We have the largest fleet of high-quality knee scooters for rent at affordable prices, including All-Terrain and Pediatric versions and we are always in stock. You do not need an appointment to rent one, but if you do book online, you can fill out the rental agreement ahead of time to expedite your visit. We are also the main retailer of the IWalk Hands Free Crutch in Canada. Our certified fitters will fit and train you on any mobility device to ensure you feel safe and confident.
How are Accelerated's services covered or paid for?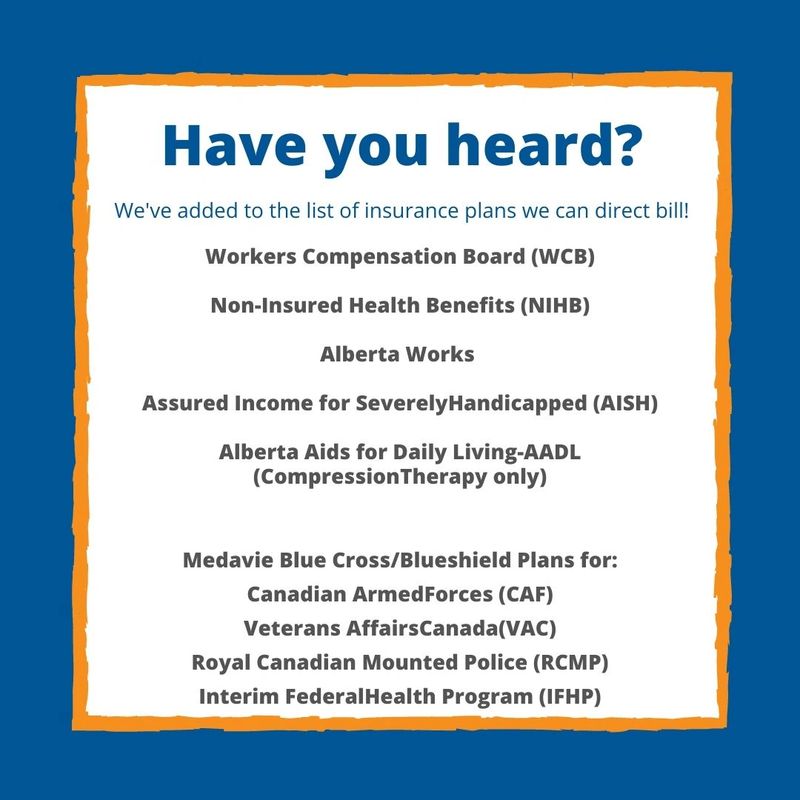 We are a private clinic, staffed by nurses as part of a greater multi-disciplinary team of physicians and therapists. Most of our services are reimbursable, in part or in full, with a prescription from a physician, through your private health insurance. It's the clients' responsibility to consult with their insurance provider to confirm if this is a concern. Otherwise, we endeavor to ensure all our services and products are accessible and affordable out of pocket. Currently, we direct-bill only to the following government agencies: NIHB, Veterans Affairs (Medavie Blue Cross) and WCB.
Do you carry the same casts/splints/braces as the hospitals?
Yes, we do, however we also pride ourselves on innovation and leading-edge technology. In our clinic/store, you will have access to a wider variety of devices and the latest in treatments at affordable prices.
If I skip the long ER wait to come to Accelerated, how fast will I be assessed and treated?
While we cannoguarantee due to unforeseen factors, our goal is to assess, diagnose (with tests such as X-Rays, etc.) and treat you within 1- 2 hours if you have booked an appointment. We also provide FREE parking, complimentary beverages, a pleasant and relaxing atmosphere and smiling faces to welcome you when you arrive.
I need a cast. How much will that cost me?
Great question. On average, your orthopedic consultation and treatment, for a typical forearm or below knee cast will cost approximately $55-$80 and take about 15-30min once treatment begins.
In addition to the free parking and other perks, our previous clients tell us it was worth every penny to skip the ER, to be treated by our expert team, to not sit for hours around very ill patients in an ER and to experience our hospitality.
We look forward to serving you as well.
I have a chronic foot wound. I've been getting Home Care but my wound has not been healing for months/years.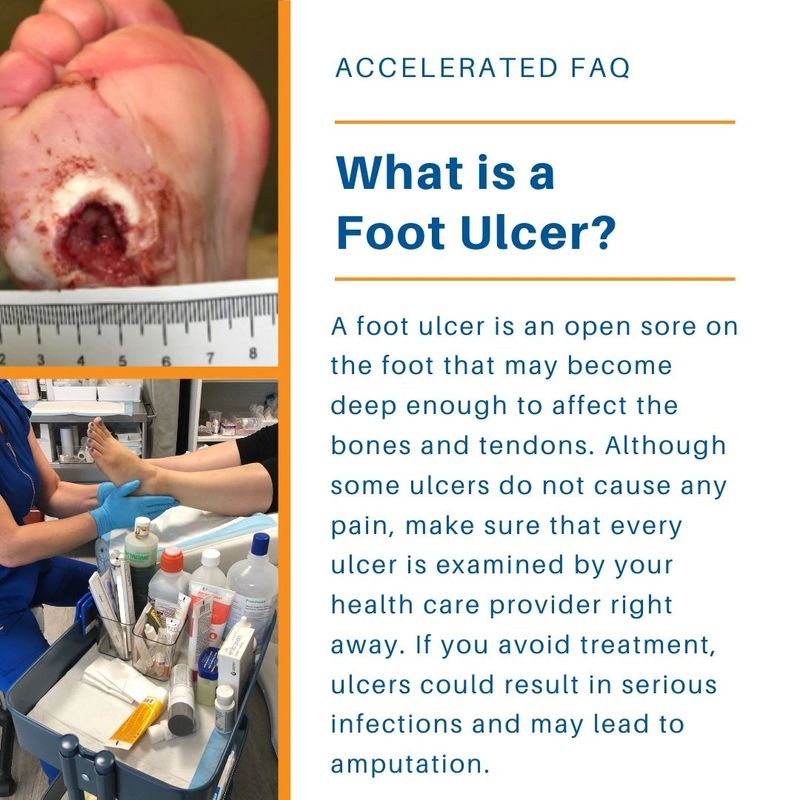 How Accelerated help me? Do I need a prescription for your wound care services?
Chronic foot ulcers are our passion and specialty. Most of our success stories have been in your situationwith an unhealed wound for many months. Many of our clients were even told their wound was not healable and their toe/foot/leg should be amputated.
Though everyone's case is different, our innovative, holistic approach normally yields an improvement in wound healing, on average, within 1-2 weeks, and full wound healing within a few short weeks. Please contact us to learn more.
No, you do not require prescription for Accelerated to take over your care.